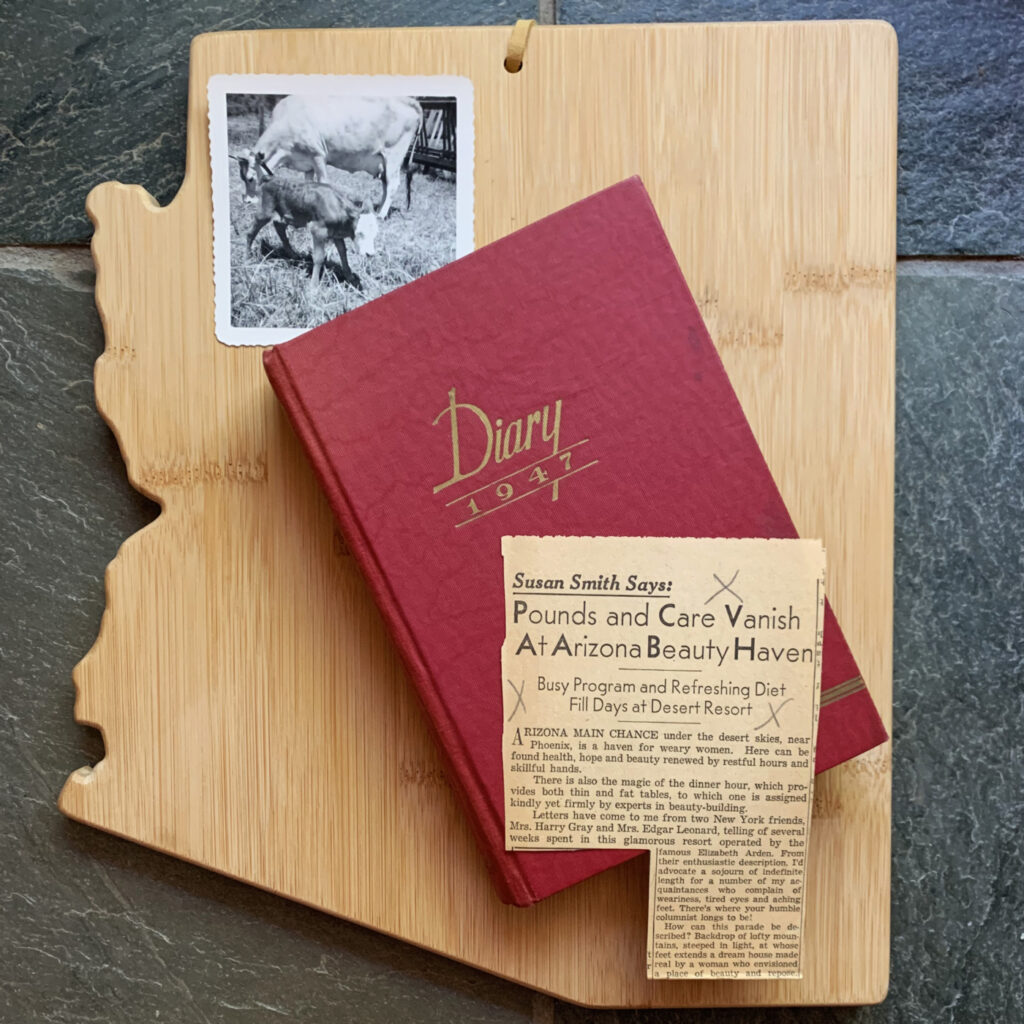 Dreaming of an Arizona Beauty Haven
I've been down some serious rabbit trails lately. I blame my great Aunt Marion Roan, who I just meet through her diaries. You'll be hearing more about Marian and her life on the Verde Antique Ranch* in Foresthill, California from me soon, but for now, I have a clipping! **
When this newspaper clipping fell from Marion's diary, I knew I was hooked. It's from the San Francisco Examiner – Monday, March 21, 1949. The clipping left a yellow impression on the pages. And her life has sure left an impression on me. The article reads,
"Pounds and Care Vanish at Arizona Beauty Haven," Busy program and refreshing diet fill days at desert resort. Arizona Main Chance under the desert skies, near Phoenix, is a haven for weary women. Here can be found health, hope and beauty renewed by restful hours and skillful hands." Writer Susan Smith goes on to describe her magical stay at the beauty resort operated by Elizabeth Arden.
I understand why my aunt Marion penciled three big X's on the article. She, like many women today, was craving rest, adventure, and a change of pace. She worked from sun up to sun down on the ranch. She was dreaming of a getaway.
So, I wondered, where was this resort?
My research led me to the Phoenician Resort, at the foot of Camelback Mountain, where Elizabeth Arden purchased an existing estate and modeled her luxury spa after her rural farm spa in Central Maine.
Smith's article goes on to say "There is also the magic of the dinner hour, which provides both thin and fat tables, to which one is assigned kindly get firmly by experts in beauty-building."
Guests like Mamie Eisenhower came yearly for skillful massages, exercise classes, and afternoons by the pool drinking ice-cold vegetable juices.
Sounds dreamy, but where is the resort today? This led me to a blog by Boyce Thompson. You see, the original estate was likely was owned by the family of Jessie Benton Evans, who was a painter and owned a small home on 40 acres at the base of Camelback mountain. (Oh! A painter? A rabbit trail for another day, Dyana) Apparently, 12 of those acres were gifted to a son and daughter in-law who built the adobe estate in 1926.
The adobe estate became the Jokake Inn. The inn was purchased by Mabel Maud Thompson Wilson (sister of Colonel William Boyce Thompson of the Arizona arboretum fame) In 1946, Elizabeth Arden transformed the estate into her Main Chance Arizona resort.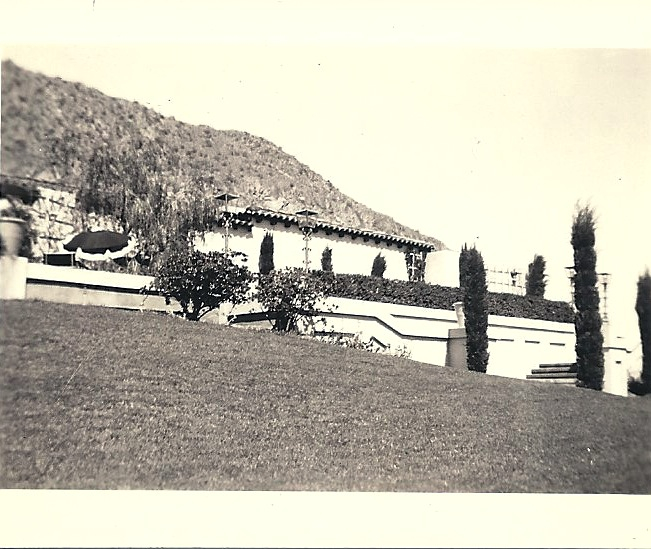 And where is that beautiful adobe inn today?
According to the Thompson blog, the estate was still there when the Phoenician first opened in 1988, but when Starwood bought the resort, it was razed to make room for canyon suites.
For whatever reason, I pine for old places and stories. And I contemplate the daily lives of those who came before me and think about how very similar we all are.
Marion Roan rose early every day to bird songs. She let out the ducks, fed the chickens, milked the cows, separated the milk, made breakfast, had devotions and prayer, fixed the generator, weeded the garden, harvested the strawberries, checked on a neighbor, drove to town, entertained guests, wrote letters by the fire, loved her dog, and went to bed tired and grateful.
I rise each day to bird song. I read my bible app, feed the dog, take a walk, make the coffee, make breakfast, water the yard, pull a few weeds, answer emails, fill orders, paint a canvas, fix what's broken, run to the store, check on a neighbor, clean up the studio, make dinner, wash the dishes, finish work in the studio, read or watch TV, write in my journal, fall into bed exhausted, and grateful.
I could use a spa day too, Aunt Marion. But a day with you back at the ranch would sure be fun too.
*My Aunt's ranch is still standing, for now.
**Bonus points for knowing this reference