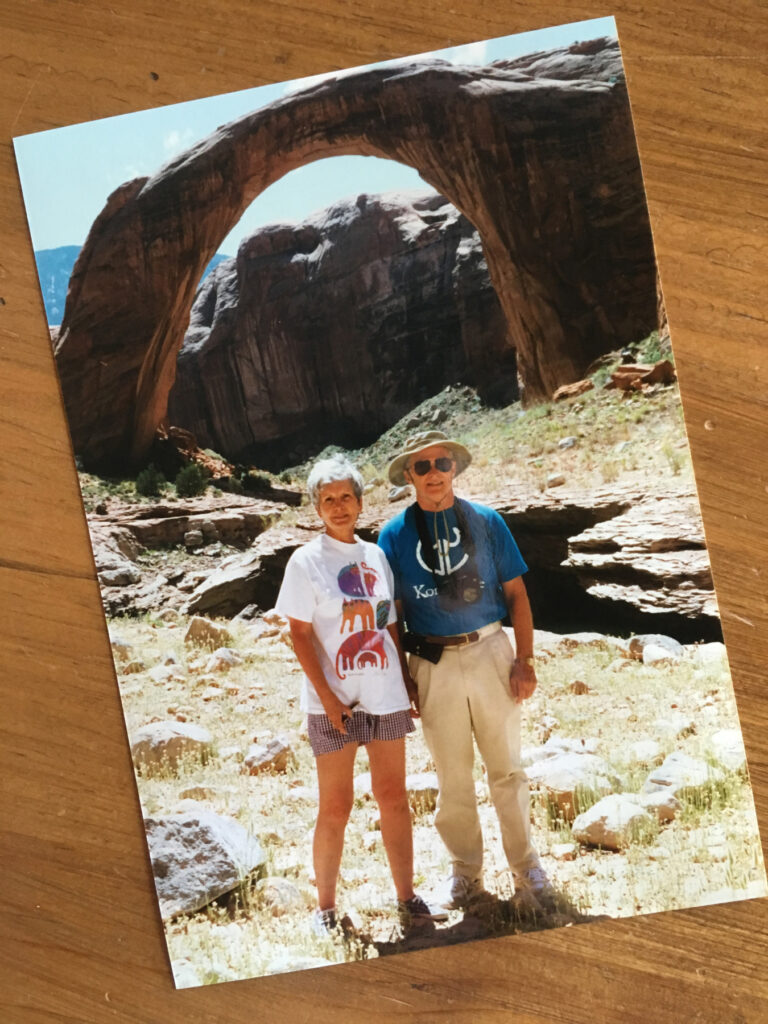 Or, what not to do when houseboating on Lake Powell.
A Short Story by Dyana Hesson
"As I turned the boat sideways to head out of the canyon, the howling wind broadsided our fifty-two foot behemoth, pushing us the other direction. Sliding within inches of the canyon wall and over the steel cables holding the dock in place, we moved slowly up the gorge. My first thought, as our twin screws were ripped to shreds on the cable, was that after millions of years of wind and water, I would be the cause of the crumbling to ruins of the Rainbow Bridge."
My husband penned these words in 1997 shortly after our first houseboating trip on Lake Powell. But it was not my first time seeing Rainbow Bridge. My parents had taken me and my brothers to the lake when I was small, probably around 1970. The reservoir began to fill in 1963, so back then it looked quite different. My mom recalls the long, shallow narrows they traveled each day from the newly built lodge just to get to the main body of the lake. Because there was less water, the dock at Rainbow Bridge was quite a distance from the natural arch. There are stories about little Dyana's long walk to Rainbow Bridge, and how momentous it was, but I have no memory of that. So in 1996, my parents started prodding us to take a house boat trip with them, to see the lake anew. We began planning over the phone, as Mom and Dad were in California and we were in Arizona.

Houseboating is not an inexpensive venture. Randy and I had picked out a modest boat to rent, suitable for four people, and a small skiff to tow behind. Mom and Dad wanted a bit more luxury, and persuaded us to bump up the fifty-two foot boat. They would pay the difference. So in May, we met in Page, Arizona to get on our boat and have our grand adventure. It was indeed a nice houseboat. Plenty of room, nicer than most apartments. There was an orientation on the ins and outs of proper houseboating. I didn't pay much attention to that. Randy and Dad would be at the helm, Mom and I would cook and help with docking. It would all be fine.

I remember the magical feeling I had while pulling away from the dock. I had read my guidebook in advance, studied about the rich history of Glen Canyon and was ready to see it all; or at least as much as four days would allow. Lake Powell is so expansive, it is unlike any other lake experience. It has more shore line than the west coast of the United States, and it never feels crowded. There are endless canyons to explore, and unique geologic formations; the most famous of all being Rainbow Bridge, which was definitely on our agenda. This time I would remember my visit.
While Dad and Randy navigated that first day, I retreated to the upper deck. The blue sky juxtaposed against the red canyon walls took my breath way. And if that were not enough, puffy white clouds would appear on the horizon, and their bellies would glow pink, reflecting the land below. Extraordinary. After a significant cruise, we found a suitable red sandy cove where we could park for the night. With a crew of only four, the large boat took some work to beach, anchor, and secure. Randy nosed the boat into the beach, while Dad, Mom and I jumped ashore to dig holes in the sand and bury the anchors. With a little effort, everything seemed secure, and this would be a nice place to stay the night. No other boats within sight. We did a little swimming, and Randy and I fished from shore.
I enjoy fishing; however, I am a terrible fisherman. That is to say, I rarely catch a thing, ever. And yet I feel compelled to keep trying. I'm thinking it's what golfers feel every time they play; that if they just keep at it, they will refine their swing and the perfect game will be attainable, and it rarely is. But, on this magical afternoon on Lake Powell, I actually felt something on my line. And this time it was not a reed.

"Wait, what is that? It's fighting me!"

"Reel it in!" Randy yelled. "You've got one!"
And so I did. I thought I might have a heart attack, I was so excited. I did not want to lose it. Like you see on that survival reality show "Alone" when a desperate contestant gets their fish all the away to shore, only to lose it. But I didn't lose it. I have a photo to prove it. I was loving Lake Powell even more. A real fish on my line, more magic.

Mom and Dad ran over to admire the foot-long bass, and then we gently removed the hook and sent him on his way. Mom loves animals; she would not have had the heart to gut and eat him. "I can do that on my next trip here," I thought.

The sun sank behind the crimson buttes, the sky yielded its blue for shades of purple and gold, and the day faded into night. We had a fire on the shore and ate homemade spaghetti that Mom had prepared. It was incredibly quiet, and eerily desolate. We climbed to the upper deck to enjoy the cool air. And then, slowly, the lake revealed another magic trick. As darkness increased and the stars intensified, the lake appeared to fill with stars as well. Optically, I could not tell where the water ended and the sky began. It's an image I can still see today in my mind's eye. We settled in for a good night's sleep. Tomorrow would another epic day.
The following day we used the skiff to explore some of the smaller canyons and Indian ruins. This was a good plan, as the houseboat was too large for these more intimate waterways. After some afternoon fishing, we navigated to a new cove closer to Forbidding Canyon to camp for the night. This time anchoring the four anchors and lines came easier and our little crew felt we were truly mastering this "houseboat thing". After dinner, we retreated to the rooftop to watch the stars and plan our next day.
We consulted my handy guide book, "Boaters Guide to Lake Powell", second edition by Michael Kelsey. In the section about Rainbow Bridge, the author writes "The only times the author felt in danger of having his boat overturned by waves were the times he went to see Rainbow Bridge." He goes on to urge boaters to slow down in the narrow waterway because the pyramid type waves vibrate on for ten to fifteen minutes. Near the end of the canyon there would be a floating dock and a trail to view the bridge. It was noted that the first white men saw the bridge in 1909, and in 1910 president Taft proclaimed the bridge a National Monument.
The first trail to Rainbow Bridge was established in 1922, long before the dam. Early tourists would come down the Rainbow Bridge trail, which started on the south side of Navajo Mountain. Visitors could stay at the Rainbow Lodge* and travel the thirteen miles by horseback, camping under the stars near the bridge by a natural spring. Bedsprings from the bunks that were housed in canvas-topped cabins still remain in the landscape.
So much history and beauty to explore in the morning. I was looking forward to experiencing this special place with my family.

The new day arrived and morning revealed a placid lake. Perfect for the day's expedition. We pulled up anchor on the house boat and secured the skiff to the back, and were on our way. This is where my memory about the day's events gets fuzzy, or perhaps suppressed, or something.
As we motored closer to the mouth of Forbidding Canyon, the winds had picked up. Also, the amount of boat traffic going into the canyon looked like rush hour, with wakes. A consensus was reached that it would not be a good day to see the bridge. Too much wind, and too many boaters. But I was determined. It's a fault I carry, being determined, despite common sense. But honestly, that trait has also served me well over the years. Determination has carried me out of the Grand Canyon on several occasions; it has rappelled me into frigid waters from a tiny rope, it has helped me complete and correct a painting that seemed doomed.
"When else are we going to be here again?" I pleaded. "This is only day we have left to do this!" And now I was channeling John Wesley Powell himself. The expedition must go on. We have an arch to see.
I persuaded my crew that the ride would be smoother (my dad suffered from sea sickness) if we traveled the channel in the house boat and not the skiff. We were within the size limit. What could go wrong?
So, we proceeded into the mouth of the serpent that is Forbidding Canyon. Soon it was very evident that the author of my guide book had not exaggerated. Boats of all kinds were in the channel, some going faster than was considerate to others. Our crew became nervously quiet as we watched Randy carefully navigate the water and maintain a safe speed. We would be there soon.
Then, around the corner, we spotted our first glimpse of the dock and the arch. It was quite a sight. "What must those first visitors have thought at the sight of that?" I thought.
A long wood dock was positioned along the southeast wall of the canyon and then straight across the water in a right angle to the west, separating boaters from where the channel narrowed into a stream that eventually ran under the bridge. By now the wind was really picking up. Randy was able to pull right up alongside the southeast dock and parallel park safely away from other boats. We carefully tied up the boat and secured the skiff. When we looked up from our work and gazed around, we realized we were the only houseboat to make the trek.
"Good for us…yes by golly, good for us, and me with only one arm," I giggled to myself in character as J.W. Powell again.

Randy urged us to walk quickly up the hill, snap a photo and get back to the boat, as he did not feel conditions would improve but rather get worse as the afternoon went on.
And so, we did.
The bridge was a magical sight. This arch is not delicate; it is 288 feet high, 275 feet wide, and at its smallest part, forty-two feet thick. The terra cotta and pink varnished sandstone seems to occasionally sparkle in the bright southwestern sun. For an arch to form, years of wind and water erode away soft unstable sandstone to reveal formations of stronger stone altered by weight and time. I like to think that "Erosion" is the master sculptor commissioned by God to chisel away an already breathtaking landscape, to reveal an even more captivating form within.
My daydreaming was loudly interrupted by my husband. "Get your photo, and let's go."

I positioned my Mom and Dad in front of the arch and snapped their photo. They were so happy to see this beautiful place again after so many years. And that made me happy.
By now the wind was howling full force up the canyon. Many fellow travelers had already left the dock. We hurried back to the house boat, untied our ropes from the dock cleats and climbed aboard. Dad got in the skiff. We had docked the boat facing south with the stern and engines to the north. Randy and my dad assessed the situation and determined that we had plenty of room to simply pull out of our parallel parking place, turn right, straighten the boat in the channel and motor away. A simple U-turn. The best laid plans…
What we as inexperienced house boaters had forgotten was that boats are not like cars; there are no wheels in the front to turn the vehicle. As Randy turned our ship starboard, our houseboat transformed into a giant sail, catching a gust of wind that was relentless to push us against the right angle of the dock. A man with a very nice speed boat in proximity to our ship quickly jumped in is boat and sped away, just as our boat slammed broadside into the dock. In a blink of an eye, our situation tuned from challenging at best to "oh my goodness, what now".
My poor husband struggled with the boat controls; he knew he needed to move us into deeper water or we would be in trouble. At this point visitors on the dock took notice. At first, I remember looking up and just seeing blank stares. The same wind that God's sculptor "Erosion" uses to create his masterpieces was bound to destroy us, the dock, the bridge!
"As I turned the boat sideways to head out the canyon, the howling wind broadsided our fifty-two foot behemoth, pushing us the other direction. Sliding within inches of the canyon wall and over the steel cables holding the dock in place, we moved slowly up the gorge. My first thought, as our twin screws were ripped to shreds on the cable, was that after millions of years of wind and water, I would be the cause of the crumbling to ruins of the Rainbow Bridge." – Captain Randy Hesson
At this point some onlookers on the dock turned from passive to active. Some were in the mood to be heroes that day and not just spectators. We were struggling; we needed help. Our crew of four turned to five when a stranger leaped on our boat from the dock to help. Some onlookers barked suggestions to Randy while some pushed us physically away from the dock with their hands. My poor mother was running from the front of the boat to the back. If we could just straighten out, the wind would have less power to control us. At this point the bow of our ship was slightly pointed toward the channel, but too close to the rock canyon wall to continue turning. Good Samaritans tried their best, but we were still doomed. I noticed there was another powerful boat still at the dock, and I kept thinking, "If only we could get a pull from that fella!" I burned a stare through his foster grants, but he was not in the mood to be a hero.
I looked at my Dad who was watching the scene unfold from the skiff. Then it dawned on me and my dad simultaneously. We had a skiff. And some rope. What would J.W. Powell do? Our skiff's engine was only a five horsepower, like a little weakling compared to the Mr. Grant's shiny yellow boat at the dock, but that guy wasn't helping, so we had to do what we had to do. The little skiff would be fine, especially with my ex-navy dad at the helm. He was my hero, after all, and he was made of the tough stuff.
The plan quickly unfolded; we would tie the rope to the cleats at the front of the houseboat and pull our ship back to center. Mom tied off the rope and threw me the line. Thankfully, I caught it. My dad taught me how to catch. I was a good catcher. I looked down for a place to tie off my end of the rope to the skiff. There was nothing to tie to. What now?

And this is the point in the story where ordinary people do maybe foolish things, unsafe things, because that is all they can do.
I planted one foot on either side of the boats motor, bending my knees slightly and straightening my back at a slight angle. Then I wrapped the end of the rope several times around my dominant right arm and gripped the rope like a baseball bat in front of me. "My dad had taught me how to hold a baseball bat, and I had played tug-a-war in grade school; this would be the same," I thought.
My mom watched as her only daughter and only husband pulled away from the bow of the ship. The rope pulled taut as Dad pushed the boat to full throttle.

I don't remember physical pain at this point, but I'm sure there was some. I remember looking over my shoulder at my dad, doing all he could to power the little skiff into deeper water, and looking up any my mom's face, clearly upset. I had been the cause of all this stress. I had insisted we see Rainbow Bridge. When our boat sank, and the bill to pay for it came, that would all be on me.

The engine smelled hot, and the bow of our little skiff stood high out of the water.
On the houseboat, Mom continued to run back and forth. Randy was looking at me. Dad focused on open water; I held fast to the rope. And suddenly, I heard angels. No wait, those were cheers coming from the dock! For a moment I stopped thinking about my arms breaking and looked up. We were indeed straightening out! It was working. Tourists were cheering, and I felt energized. The adrenaline surging though my body gave way to a wave on emotion and gratitude. We were going to be okay.
We continued pulling to be sure we were in the clear. Dad and I got out of little skiff, tied it off and boarded. We all sat in the houseboat's living room as Captain Randy used our last working prop to safely navigate us to smooth waters. No one said a word. I looked over at my poor parents, who I thought most certainly I almost killed; if not by sinking, by a stress-related heart attack. Truth be told, I had been stressing them out all my life. I had not been an easy child, or an easy teenager, and they had always had to actively parent me, guild me, endure me. At that moment, I just felt too sorry.
As sunset neared, we found a pretty cove to make home for the night. We settled in, and as was now our habit, retreated to the upper deck to watch the day end. And what a day it had been. We assessed the damage—one prop destroyed on the dock cables. It was a miracle it had not been worse. We could afford to pay for the prop. Then my dad chuckled. "We could have sunk the whole damn boat and walked away," he said. "I bought the insurance back at the marina before we left."
And that was that. Dad had saved me, us, again. With his banker's caution, and a planner's wisdom, he had provided the security that he had provided for me and our family all my life.
Years later, our little crew—Randy, Mom, and Dad—would laugh about our adventure. And that is what happens with time. The stresses of trips and failures of vacations turn into family lore and bind you together in ways you never imagined.
I have returned to Lake Powell several times since 1997, older and wiser, but still determined. It remains one of my favorite places on earth, and this year I'll return with Randy and some folks who have never been to the lake. As we glide along the deep blue waters past the sparking sandstone formations, my thoughts will be of my dad, who we lost earlier this year. I miss him so much. I can still see him in his hat, sitting on the upper deck marveling the wondrous place that is Lake Powell. Perhaps he is exchanging adventure stories with John Wesley Powell.
So, I look forward to seeing Rainbow Bridge again and again, as long as someone doesn't knock it down. And I promise Dad, I'll be sure we get the extra insurance, just in case.
From the studio in Mesa, August 2019
Dedicated to Don Walker 1929-2019
* Rainbow Lodge was purchased by Peggy Goldwater from its original operators for her husband, future Arizona Senator Barry Goldwater, but burned down in 1951.