In memory of Boon 4.1.2008 – 8.12.2021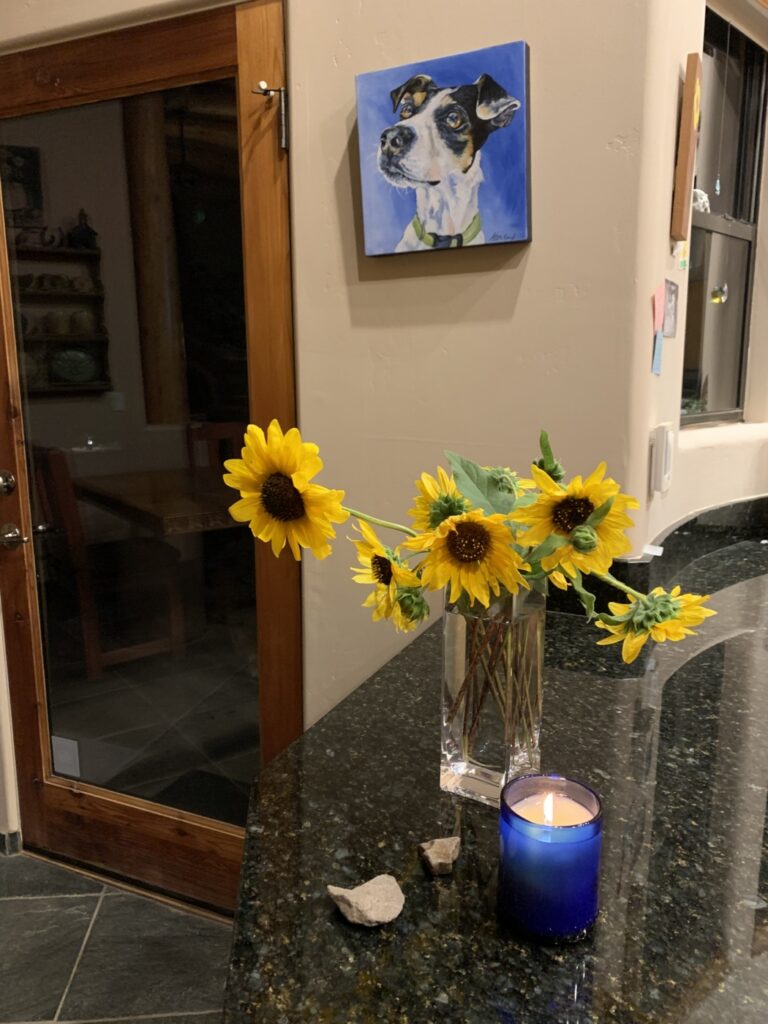 If you've ever read my artist's statement you know it is my mission to create beauty, because I believe there should be an equal amount a beauty for the suffering that we experience in this world. Never did I feel that truth more profoundly than this week.
I am not one of those people that believes when a butterfly lands on your shoulder it's a sign from a dead relative or pet, but I do believe with all my heart that God sends the butterfly, the shooting stars, the rolling grassy hills, the swaying sunflowers to comfort and assure us.
If you are not a dog person, you can stop reading right here. You simply can't relate unless you have loved your pet and been the recipient of their unique unconditional love. Cat people, ranchers, you can read on. You get it too.
Our dog Boon came to us when we were grieving his predecessor, Zoni. Zoni was like our first child. We adopted him in Michigan when we were so lonely, and then moved him all the way home to Arizona. He was well loved for 15 1/2 years. He was my constant companion and when he was gone there was a huge hole.
In 2008, there was still a Jack Russell rescue here in town. We found them on the Internet and made an appointment to look at the dogs they had available. Boon and his sister had been rescued from a puppy mill in Missouri. He had a few health issues, barely made eye contact and just was a very forlorn little boy. But we fell in love with him. We asked him to come home with us and he said yes.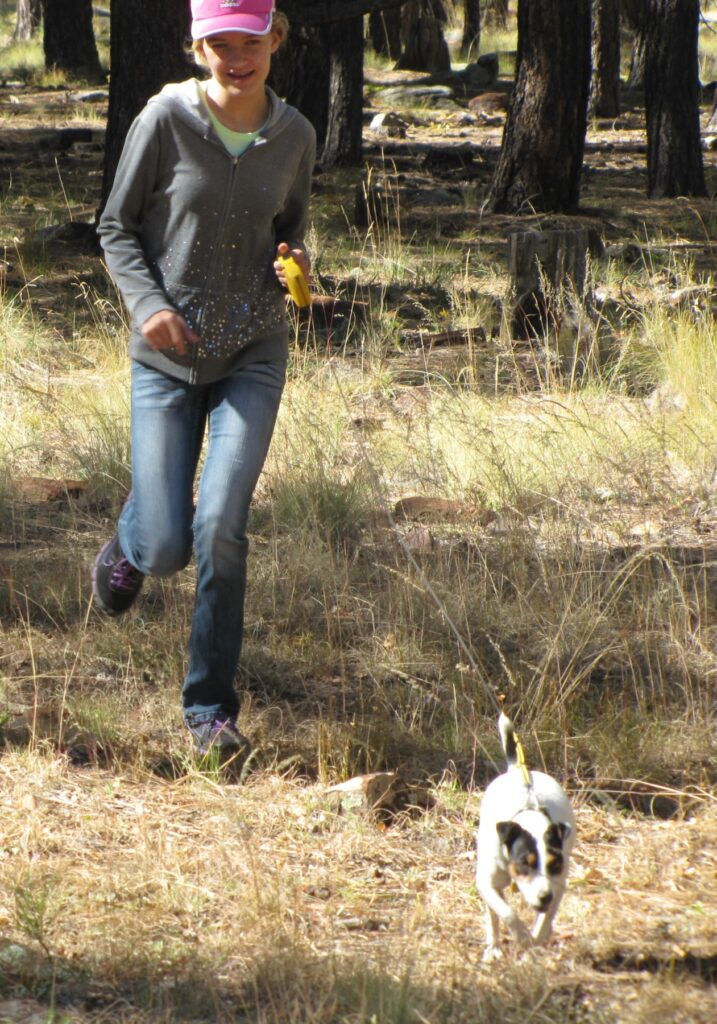 We told him he had big shoes to fill. Slowly he became more affectionate and trusting and we began to include him and all our family adventures. Specifically, for me, he was my morning hike or walk buddy, and we would marvel at God's creation together. During the day, when Randy and Syd were gone, he followed me around the house and, during my long days of painting he was my steadfast companion. Listening to my grumblings and looking at me lovingly when I was suffering.
We installed a doggie door and I loved the sound of the door flapping in the wind as he would race outside to chase a golfer, or a bird, a bobcat, or whatever. His favorite time of day was when Sydney would come home from school or work and feed and walk him. They had a special relationship and she was so loving and caring towards him.
Randy, being the big softy he is, relinquished part of our bed for Boon to sleep in each night. They would antagonize each other with affectionate growls as a part of our nighttime routine. Eventually, Boon would settle up against Randy's back and they would both fall fast asleep.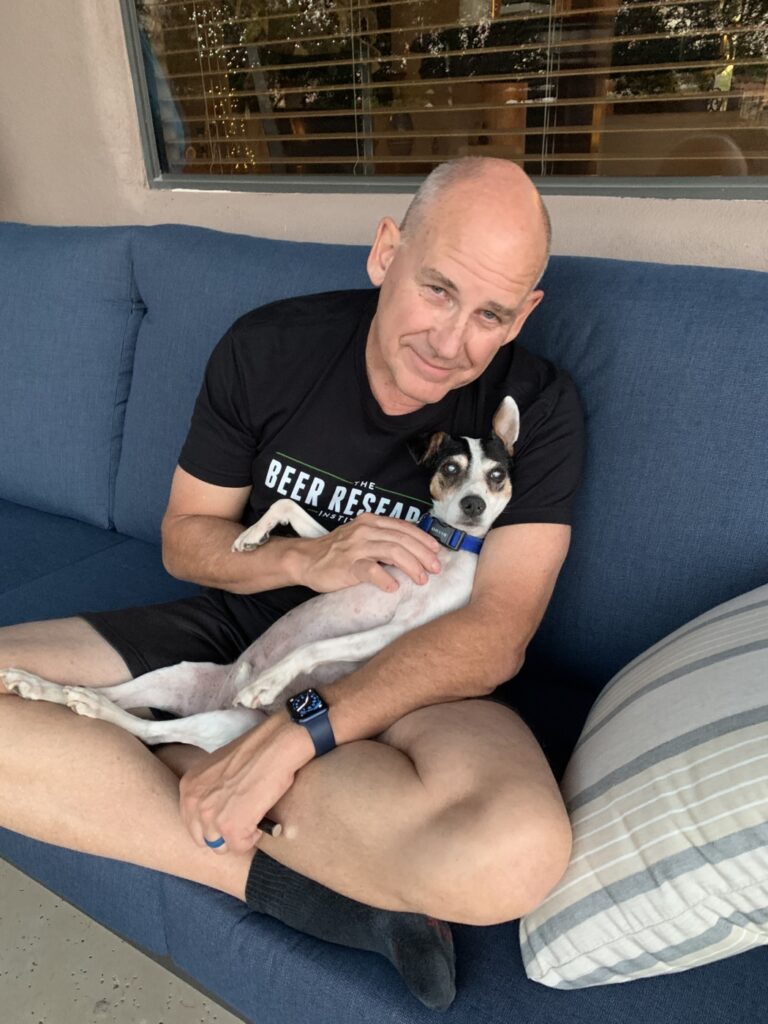 In recent months Boon's health began to decline. He had been diagnosed with Cushing's disease, and had chronic interdigital cysts. At Christmas time, while tree hunting in the woods, we noticed he wandered far from us and could not see or hear us yelling at him to come back. Eventually he lost all his sight and most of his hearing. Long walks became short walks, and finally just walks in the backyard. You or I might have complained. Boon was not a complainer. He simply tried to adapt the best he could, relying on what hearing he had left and his sense of smell.

He could no longer use the doggie door and falling in the pool was a concern. He could not be left alone for more than a few hours, and so we adjusted and scheduled our time as a family to care for him. We adjusted our summer travel, so that one of us would stay behind and care for Boon. There would be time to travel as a family later.

Last week it was Randy's and my turn to travel to my beloved White Mountains. Syd would stay home and with help from family and friends, watch over Boon. When we left, he wasn't standing very well, and loosing interest in his food, sleeping all the time. Bumping into walls to find his way was not an option any more. He was carried from room to room, and as long as he was with us, he seemed content. We knew he was declining, but truly we felt we had some time, we would not have left him if we had thought otherwise. I gave him a bath, arranged his schedule and whispered in his ear, "don't go anywhere until I come home now." We loved and kissed him and said goodbye, the way we always had when leaving the house. We checked in each day. He was doing ok.
Unfortunately, while we were still away, Boon's health took a drastic turn, Sydney with the help of her Aunt Candy had to make a hard choice. They tried to reach us just after midnight on Wednesday. The call couldn't get through. I was lying awake when I saw the doorbell notification that someone was leaving the house. It was Syd with Boon wrapped in his favorite blanket. She was telling him he was a good boy. I woke Randy and we drove the top of the hill where there was a signal. Randy called Candy and got the whole story. Sydney had held Boon as he passed, at about 1:00 am, and he was no longer in discomfort.
It was pitch dark and the only lights on the hill were our headlights illuminating a field of Sunflowers bobbing in the cold breeze. In the distance, lightning flashed in the sky. Randy and I got out the jeep to embrace and sob. We felt guilt for not being at home, and sadness that Sydney, 21, had to make such an important decision. We ran through all the what-ifs out loud and assured each other, it was all as it should be. For truly, Syd and Candy were the best suited of all the Hessons to carry such a heavy load, and for that we were grateful.
As I sobbed and tried to grasp the fact that we would be coming home to an empty house, I opened my eyes for a moment and stared at the night sky. In succession, several falling stars plummeted toward the earth in fiery reds and blues. On the horizon lightning continued to flash and light up the sky. It was all so beyond breathtaking. I walked over to the bobbing sunflowers and picked one for Boon, they too were so beautiful, so alive, so perfectly created.

On the slow jeep ride back to the cabin, we saw flashing eyes in our headlights, two small foxes were playing with each other by the road, not a care in the world.
The day before had also been so remarkably beautiful, I had cried and worried over losses and worries of Boon while simultaneously marveling at the lush and rugged landscape. I wrote in my journal before bed:
"Here is what I know without a doubt – when I am in nature, God's creation – looking at his handiwork, seeing his creativity and mastery of beauty, I am at total peace. I'm not concerned with the worlds man-made drama, I am unaware of my own mortality, or safety, or future peril. I am just in the middle of God's work and I can see no flaws, no condemnation, nothing wrong or out of place. And I know, he is King and I am his daughter and He loves me so very much."
And He does love me so very much, and Sydney, and Randy, and our sweet baby Boon. He is with us in our grief, and we have so much to be thankful for.
There has been a lot of debate about pets and heaven. I am reminded that God created the animals before he made Adam and Eve. In fact, he put the first man and woman in charge of creation, to care for it. Caring for a pet changes you. The unconditional love of a pet changes you. When you are at your worst moment, they love you. I swear, some days Boon looked into my eyes, and I knew he was an angel sent by God to care for me, deeply.

We will miss our Boon-Doggle, Boon-alicious, Bonnie-baby so very much. He was the right dog at the right time for all the right reasons. We are so grateful for every day we had with him. There is a huge hole in our hearts right now, and we are very sad. The studio is empty and I don't know how I will paint without him.

Outside my window, there is a pale blue sky, and pretty clouds, and birdsong, and they are comforting. A measure of beauty for pain.
dh 8-15-21