Description
Poolside, Aloe, Lotusland, CA
36 x 27
$1400
Edition of 50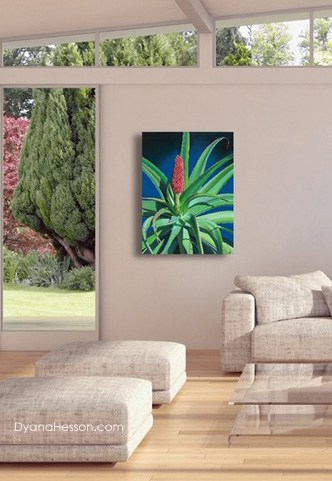 I have contemplated this composition since 2013. I have looked at it, moved the image around on my computer's desktop, and stashed it in a file that reads "paint someday." But it would not be ignored, just as the extraordinary garden Lotusland, cannot be ignored.
The journey to visit this unique place started in much the same way, now that I think about it. I had seen a wonderful article by Margie VanZee in Phoenix Home and Garden, tore it out, and put in my file (a real paper file) named "places to go." The prompt sat there for a few years, until spring break about six years ago when we packed up the family and went on a pilgrimage to Santa Barbara.
Lotusland, like many treasured homes and botanical gardens in California, exists because a wealthy landowner had a vision. The website reads, "Madame Ganna Walska, a well-known Polish opera singer and socialite, purchased the Montecito, California estate in 1941 and spent the next 43 years creating Lotusland, which is now recognized as one of the ten best gardens in the world."
The unique beauty of the place is hard to describe; it really does require a visit. The Madame had unique tastes. Although it was many years ago, I remember the day clearly. The warm sun played on the plant collection like spotlights illuminate actors on a stage. This particular human-sized aloe stood near  Madam's swimming pool. It must have been divine to swim in, lined with shells and surrounded with amazing plant specimens. Cheers Madame, and thank you for leaving us your beautiful garden to visit.
Allow three weeks from order date.
In the interest of good customer service, if you are local in Arizona and would like to save on shipping costs, please write a note for us when you order. You can arrange to pick up your work at Bonner David Galleries in Scottsdale, and I'll refund your shipping costs.
This Limited Edition print comes ready to hang and is hand signed and numbered by the artist. The piece is suitable for framing, but is not necessary. Do you have questions about this item? Please contact info@DyanaHesson.com
Giclee on Canvas