Description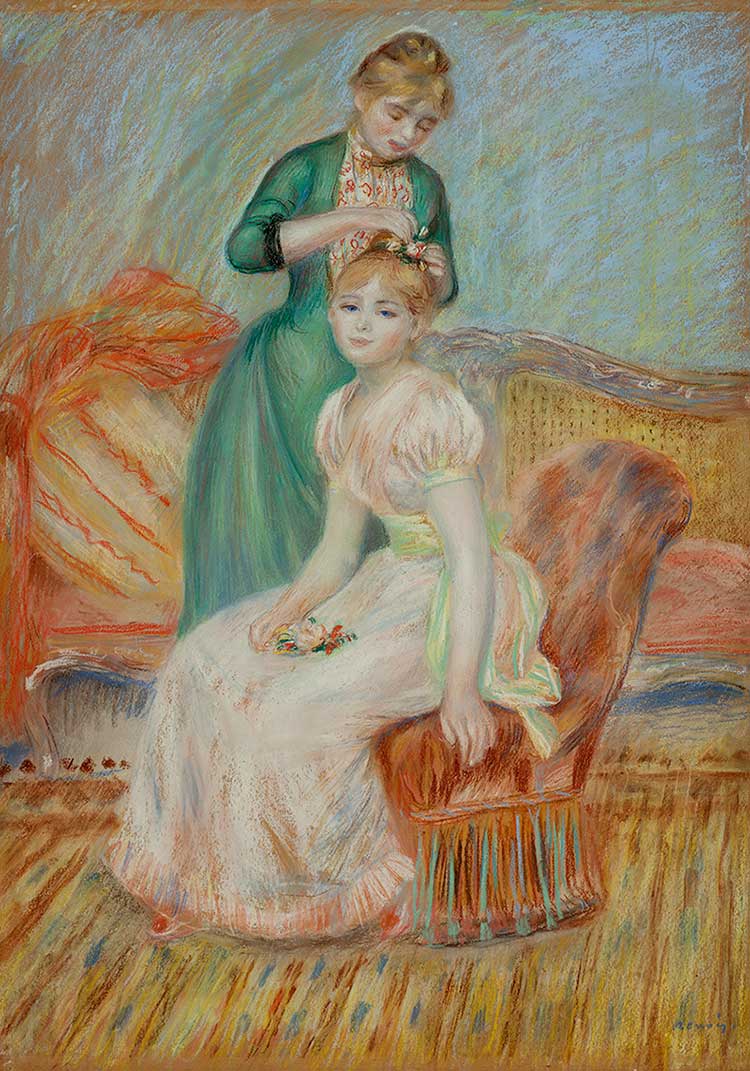 La Corsage (Mother and Daughter)*
40×30 Original oil on canvas 2018
This painting, "La Corsage" was inspired by a pastel drawing called "La Toilette" by Pierre Aguste Renoir from the Haggin Museum in California. The exercise of choosing a piece of art work as a jumping off point to create my own work was an extremely satisfying and challenging exercise. As is the case with most art, it either grabs and keeps your attention or it doesn't. I kept coming back to "La Toilette" because the colors, composition and subject matter captivated me.
Renoir began his journey in art at the young age of 13 painting flowers on plates, and eventually joined ranks with the impressionist movement while studying art formally. But it was his figurative work, of people and places, painted with a luminous palette that won him praise. He was a family man with a wife and children, and often his work reflected scenes from family life.
In my mind's eye, "La Toilette" (which means getting ready, washing and dressing in French) probably depicts a mother helping her daughter prepare for some occasion. The daughter is dressed in a beautiful creamy gown with a corsage in her lap. She stares off as her mother arranges flowers in her hair. The emotion of a mother preparing her daughter, for an evening, for the next thing, for life, is what spoke to me. I thought of all the times I did my daughters hair for prom, or a school play, the long talks we would have, and the arguments too. Those times were precious.
Since I am a botanical artist and not a figurative artist like Renoir, I was challenged with how to interpret the colors, composition and emotion into my own work. I chose roses. I gathered cream roses to echo the young girls dress, and yellow roses to pay homage to the saturated hues Renoir used in his setting. I arranged the cream roses in such a way as to mimic the seated figure, curving around like the fabric of her dress seated in the dressing room chair. For the background I chose first, the pale pastel blue in Renoir's background, but then added the deep teal blue hues of the mother's dress on the outer edges. To me this is like the mother's protection of her daughter, enveloping her as if she were still in the womb. As I worked I though also that my bouquet could very well be the corsage of flowers in the young girl's lap. We get the word corsage from the French as well. "Bouquet de corsage" referred to flowers pinned to the bodice of a dress.
So, I hope you the viewer, will let your eyes dance in the play of lights and darks on my canvas. That you would study the relationships between the flowers and the leaves, and delight in the vivid colors. But most of all I hope you will find "La Corsage" as beautiful as I did Renoir's piece.
"The pain passes, but the beauty remains" – Pierrre Aguste Renoir
Dyana Hesson
April 2018
*This painting will be exhibited at the Haggin Museum in Stockton, California August 2- September 16, 2018